Reviews by くろい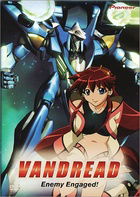 Posted : 10 years, 3 months ago on 29 March 2008 02:59 (A review of
Vandread
)
The show is good amongst the mecha animes. The storyline isn't bad and the graphics is pretty good. Worth watching and having fun during the humorous moments and covering your eyes when it gets a little ecchi ;).

0 comments,
Reply to this entry
Posted : 10 years, 3 months ago on 29 March 2008 02:54 (A review of
Ouran High School Host Club
)
Only one word to describe it, "awesome". I watched the series and i was satisfied with the graphics, humourous characters and storyline. A must watch.

0 comments,
Reply to this entry